Latest News (UPDATED: 06/11/2014)
Welcome!
Here you will find information on my various music recording projects, albums, collaborations, live performances, and more.
NEW: LIVE Video Streaming on Har's LIVESTREAM CHANNEL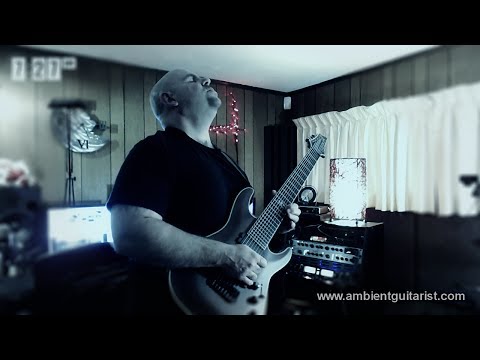 UPDATE 6/11/2014: Two newly posted live performance videos now on the Media page!
Sign up and Follow my new Livestream Channel so you can watch live-in-studio streaming video performances, video simulcasts of my weekly dark-ambient radio show, and to be notified of new upcoming events! http://new.livestream.com/accounts/6407406
Yep, I've started broadcasting live video as well as audio. And to make things available for people who might not be able to watch the live video stream, I'll also have them archived after the fact on both my YouTube and Vimeo channels, such as my latest broadcast of a live solo 8-string looping ambient guitar performance: [Watch on YouTube] [Watch on Vimeo]
(FYI: A requirements of the free Livestream account that I'm using, is that watching requires that you create your own free account with Livestream as well. However, it's a very fast, easy process, and it allows you to not only watch ad-free and in HD, but you'll even be able to create your own live video streams free if you like. Sign up and make sure to click "Follow" so you'll be notified of the upcoming live Har/Nightscaping video events as they occur! :) )
NEW Nightscaping Radio on Stillstream VIDEO ARCHIVES ON VIMEO
After years of people who haven't been able to catch my weekly dark-ambient radio show "Nightscaping Radio" on Stillstream.com requesting a recorded version to enjoy later, I've finally set up a Video Archive for the show's video/audio simulcast on Livestream on my Vimeo account, starting with the first simulast show on March 9th, 2014.
You can check it out on the new Nightscaping Radio Vimeo channel, here: https://vimeo.com/channels/nightscapingradio
I plan to keep at least the most recent 4-5 "video podcasts" from the show online and available, rotating out older ones as new ones come in.
NEW TEASER VIDEO for: Into The Maelström, Vol. IV: The Return of The Professor.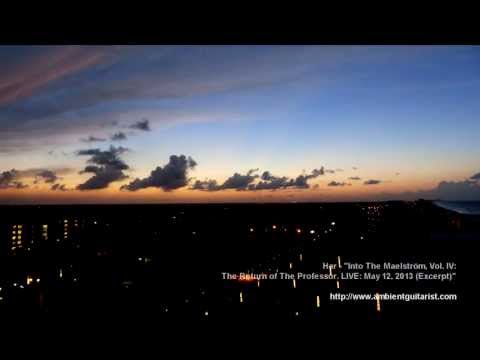 Huh? Har playing ambient...piano?
Yep, that's right! For my upcoming new live release "Into The Maelström, Vol. IV -The Return of The Professor. LIVE: May 12, 2013", I performed the set entirely on processed and looped piano - the instrument I was actually originally formally trained on. The full-length release will be available Summer 2013 on my Bandcamp site at http://ambientguitarist.bandcamp.com.
But in the meantime, I hope you enjoy this teaser video containing a segment from the live set, and also features my first ever serious attempt at time-lapse photography, shot in 1080 HD in Florida. If you can, make sure to watch fullscreen in 720 or 1080 HD to get the best results!
Watch the video now at http://www.youtube.com/watch?v=YaninnYR9e0. And hey, while you're there - make sure to also subscribe to my YouTube channel so you'll know when my various music videos are released as well!
RELEASED: Into The Maelström, Vol. III: The Surge. LIVE: January 13, 2013
The third in my ongoing solo live Into The Maelström series, Vol. III: The Surge. LIVE: January 13, 2013 is now available on Bandcamp!
"Vol. III: The Surge" was recorded and broadcast live to listeners world-wide on Sunday, January 13, 2013 in my studio "Ice Station Zebra". Performed once again entirely on processed and looped 8-string guitar, it's a fifty minute journey on sweeping waves, through a wide sonic landscape that alternates between warm pastoral regions and dark, eerie, foreboding territories - and gradually builds to a majestic ending.
Available at my Bandcamp store only, at: http://ambientguitarist.bandcamp.com/album/into-the-maelstr-m-vol-3-the-surge-live-january-13-2013. You can now also buy this release along with all of my others from Bandcamp directly on the Purchase Stuff page!