Latest News (UPDATED: 1/5/2016)
Welcome!
Here you will find information on my various music recording projects, albums, collaborations, live performances, and more.
HAR MUSIC VIDEO CHANNEL ON VIMEO.COM
I now have all of my various music videos collected on my official channel on Vimeo, including the official lyrics video for "Sunset 2063", the original teaser video, as well as various others.
Make sure to follow to get updates as new ones are made available!
PART I of NEW SOLO PROJECT: 2063 RELEASED
Several years in the making, the first part of my new progressive/atmospheric hard rock solo project 2063 has been released and is now available on my Bandcamp site as well as on CDBaby
Moving away from "pure" ambient music and returning to my heavier, proggy-er roots, 2063 is a multi-part "musical series" concept album. Part 1: Wish, was released on September 12th, 2015 with digital distribution through my Bandcamp site as well as on CDBaby. I'm performing on all instruments and vocals, as well as creating the related video/multimedia content myself.
More information can be found on the new dedicated website at http://www.har-2063.com/. Make sure to also check out the new official lyrics video for "Sunset 2063" as well as the original teaser video!
NEW MUSIC VIDEO: Obscura
I've created a new music video based on an excerpt from the title track to my album "Obscura", featuring time-lapse photography I shot at sunset on Chincoteague Island, Virginia in November of 2014. Enjoy!
NEW TEASER VIDEO for: Into The Maelström, Vol. IV: The Return of The Professor.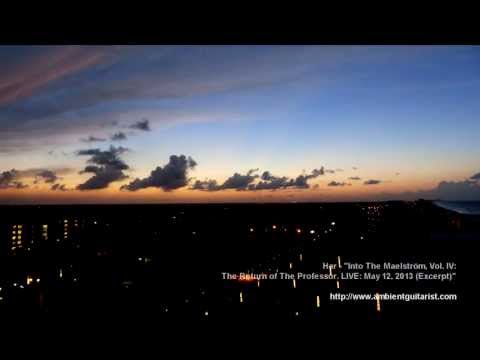 Huh? Har playing ambient...piano?
Yep, that's right! For my upcoming new live release "Into The Maelström, Vol. IV -The Return of The Professor. LIVE: May 12, 2013", I performed the set entirely on processed and looped piano - the instrument I was actually originally formally trained on. The full-length release will be available Summer 2013 on my Bandcamp site at http://ambientguitarist.bandcamp.com.
But in the meantime, I hope you enjoy this teaser video containing a segment from the live set, and also features my first ever serious attempt at time-lapse photography, shot in 1080 HD in Florida. If you can, make sure to watch fullscreen in 720 or 1080 HD to get the best results!
Watch the video now at http://www.youtube.com/watch?v=YaninnYR9e0. And hey, while you're there - make sure to also subscribe to my YouTube channel so you'll know when my various music videos are released as well!